New Work: Anillos Blancos
On the Move Festival, Kolding 2020
Anillos Blancos is inspired by a poem written by Federico García Lorca, named Romance de la Luna, Luna. This poem became a part of the spanish folk music since it's been played in many different ways. Anillos Blancos is a new composition that carries the meaning of the poem and is inspired of all the many melodies we know it from.
The work was premiered in Riis Toft Salen, Kolding on the 24th September 2020 by the orchestra Lalabaj.
---
New work: Riot
Aarhus Festuge 2019
Riot is a new and personal work where the orchestra, electronics and visuals are built around the same concept.
I have developed a harmonic system based on interval-codes wich come from the research of triads and their inversions. The work uses that information to create both soloimprovisations and groupe-improvised counterpoints. These develop in an alternative harmonic setup. Those codes are used to create shapes in form of interactive visuals which are direclty related to the music.
The work was premiered in Aarhus Musikhuset on the 3th September 2019 by the orchestra Blood Sweat Drum and Bass under the direction of Jens Christian 'Chappe' Jensen.
---
New project 2019: Zero Kestra

Zero Kestra, is Cesar Joaniquet's new orchestra, which has embarked on an idea to create a new, smaller ensemble, where there is room to explore and develop the integration of group improvisation into composed music works.
Most recently, in 2018 Cesar wrote two works for the Aarhus Jazz Orchestra: one also with choir and church organ which was premiered in Aarhus Cathedral and a work entitled "Sketches of Barcelona" which was played at a Denmark tour during Vinterjazz 2018 in collaboration with the Catalan multi-instrumentalist and jazz-super-star Jorge Rossy (Brad Mehldau Trio, The Bloom Daddies, among others)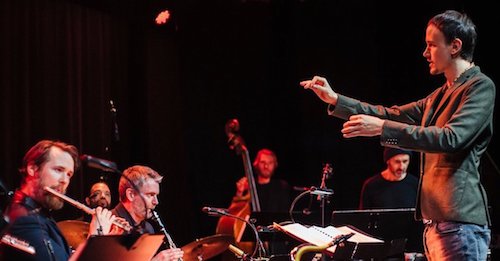 "Complex contemporary jazz with many details and Joaniquet as central saxophonist. That he also has abilities as an arranger and composer, there must not be any doubt about that. "Politiken (Sunday 25, February 2018).
With Zero Kestra, Cesar Joaniquet presents a new repertoire in smaller format: 4 horns + rhythm section. With titles such as "Nothing is a word" and "Zero" you sense Cesar's interest in circulating around the spiritual, just as concepts like infinity and silence are used in music.
---
Sonum Cathedralis
December 2018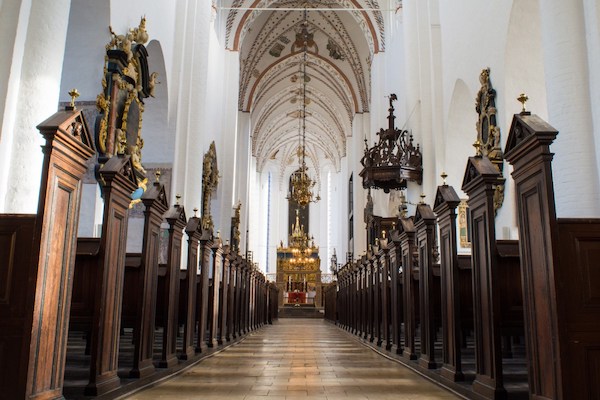 Sonum Cathedralis (The Sound of the Cathedral) is a new work by composer and saxophonist Cesar Joaniquet. The work is written specifically for the Aarhus Cathedral and explores the acoustics and architectural design of the church room, among other things by letting the musicians move around the church. The work unites the boys choir Skt. Clemens, the jazz orchestra and Indra Rios-Moore and creates a very special experience of the music.
"I am very much looking forward to presenting a work that means a lot to me, inspired by some traditional Christmas tunes that I have sung as a child. It has influenced me a lot when I wrote the music. A deep, touching journey to be shared." - Cesar Joaniquet, composer at Sonum Cathedralis.
The work was premiered in Aarhus Cathedral on the 21st December 2018 by Aarhus Jazz Orchestra, Indra and Skt. Clemens Drengekor under the leadership of Carsten Seyer-Hansen.
---
'Sketches of Barcelona' is reviewed in danish newspaper Politiken with four hearts!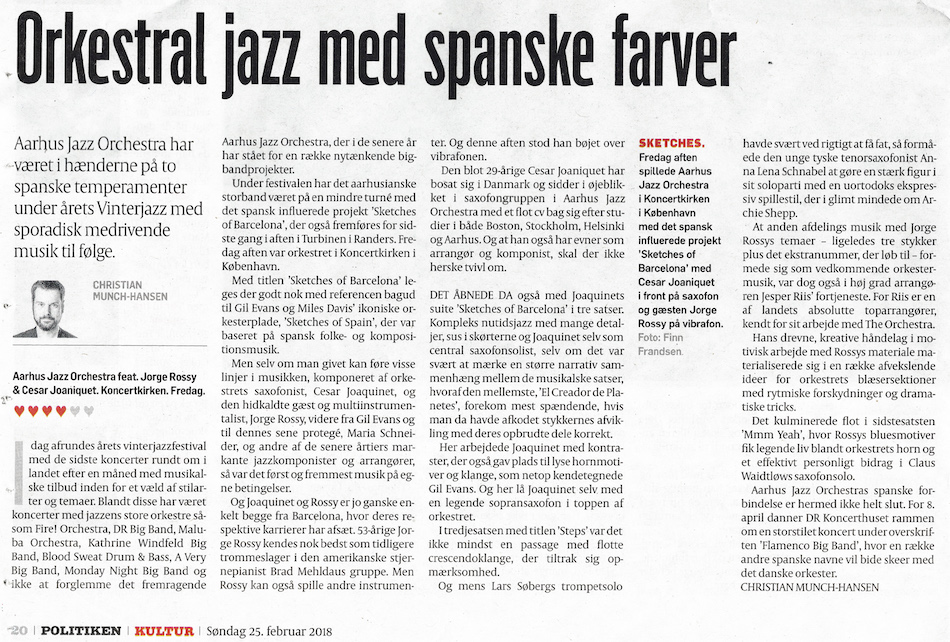 ---
Sketches of Barcelona, Vinterjazz 2018
Sketches of Barcelona, is a project written for rhythmic orchestra (Aarhus Jazz Orchestra) and international soloists. Jorge Rossy (ES), RJ Miller (USA) and Anna-Lena Schnabel (DE) where Jorge is the main soloist. The project consists of a suite of three works that I have written. The work is deeply inspired by my personal experiences and my roots from Catalonia in the contrast with my life in Denmark.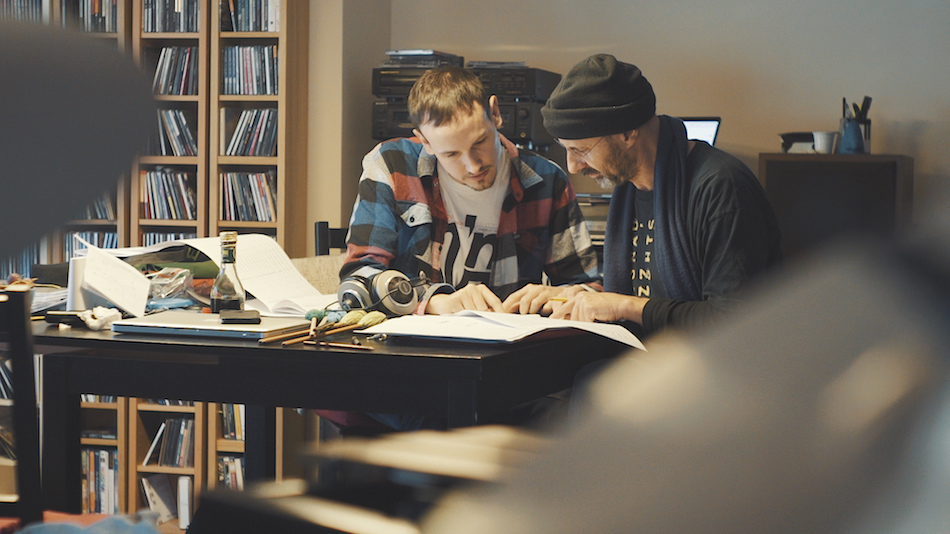 I show Jorge some of the orchestral scores in his house in Barcelona.
The world-famous multi-instrumentist Jorge Rossy is visiting Denmark. When I studied in Barcelona's conservatory, I lived in a music collective opposite the conservatory, which was named "The Hostel" because it offered shelter, jams and instruments for jazz musicians from all over the world when they visited the city. One day, Jorge Rossy appeared at the place. And that was the start of a very special musical relationship.
We have common roots in Barcelona and this is our first official musical collaboration. Jorge is a kind of musical father to me. He often invited me home at his house in Barcelona to jam with world-famous jazz musicians. He has been very important to my life and my musical career.
Jorge tells the press: "Cesar has a very beautiful, melodic sound. After living abroad for a number of years and touring around, I returned to Barcelona. In the meantime, I had lost a lot of contact with the jazz life in the city. But Cesar was there. And I immediately noticed that he had something special. He reminded me of that time I was young, and about the young musicians I played with".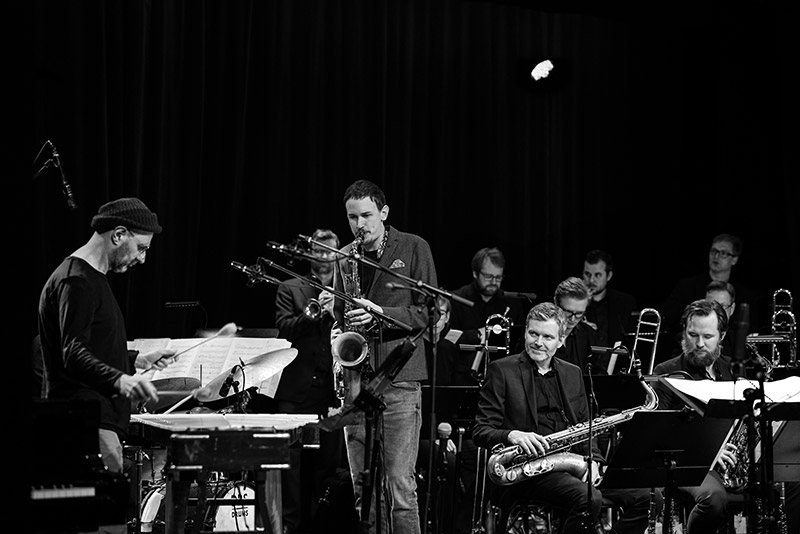 Concert at Atlas, during the Winter Jazz Festival, Aarhus on February 21st, 2018
---
'Sketches of Barcelona' is taking form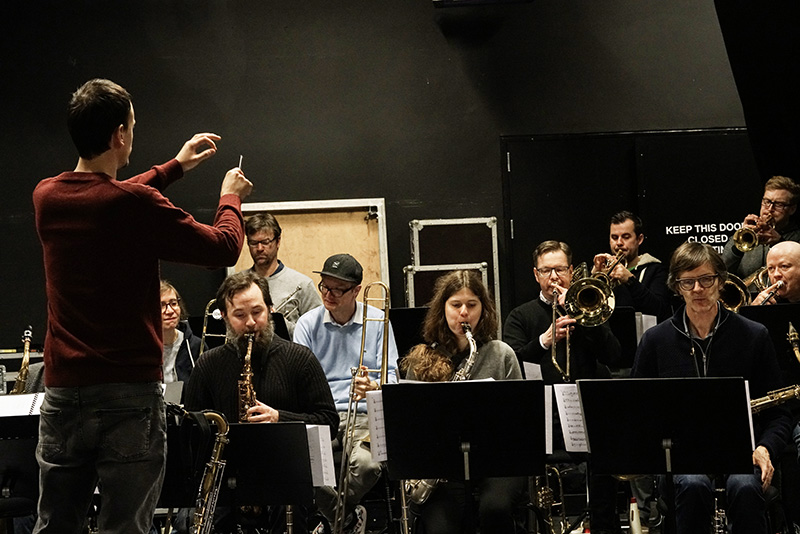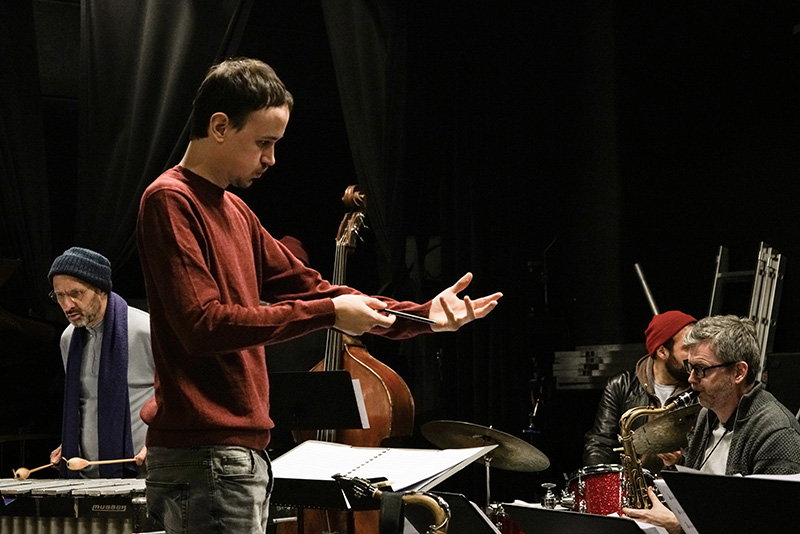 ---
Jakob Buchanan, Marsken og Månen
Symphonic Hall, June 2017
Marsken og månen et nyt værk af Jakob Buchanan,. a new work by Jakob Buchanan , conducted by Helle Høyer Vedel. We play duo together with Aarhus Girls Choir (Aarhus Pigekor).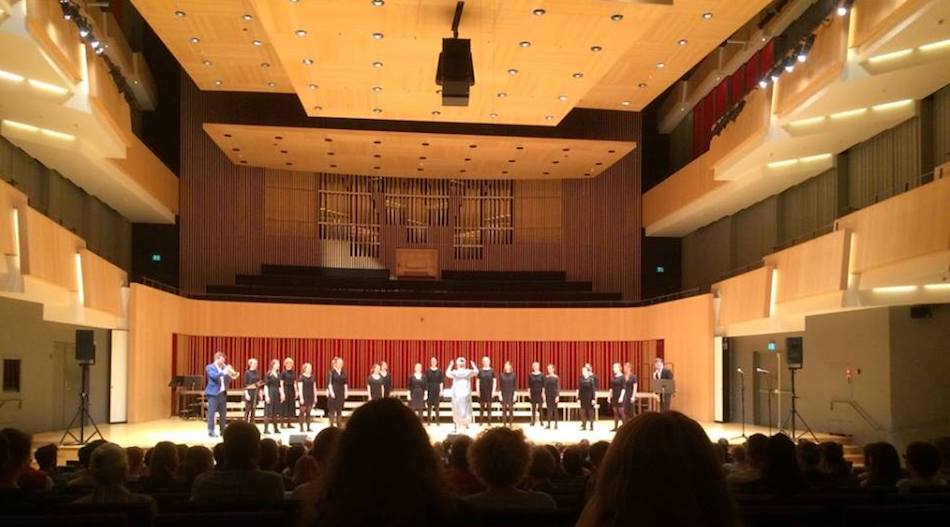 ---
with Agusti Fernandez and Ivo Sans, Winter Jazz 2017
The pianist Agustí Fernández is a prominent improvisation musician who for many years has been active in reputable ensembles including Mats Gustafsson, Barry Guy, Peter Evans etc. Cesar is actually a former student of Agustí when he studied at Barcelona's Music Conservatory, but it did not take long before they started playing together in some improvisation based projects.
All three musicians have grown up in Barcelona's musical environment and therefore know each other and have shared many musical experiences together. Now Cesar invites them to come to Denmark and play together as a trio. They have a deep intuition for each other's musical tendencies, but also a strong and united creative vision, nurtured by mutual admiration and respect. This experience blends their individual skills into a fresh, exciting trio united by a collective inspiration and passion to create exceptional music for their listeners.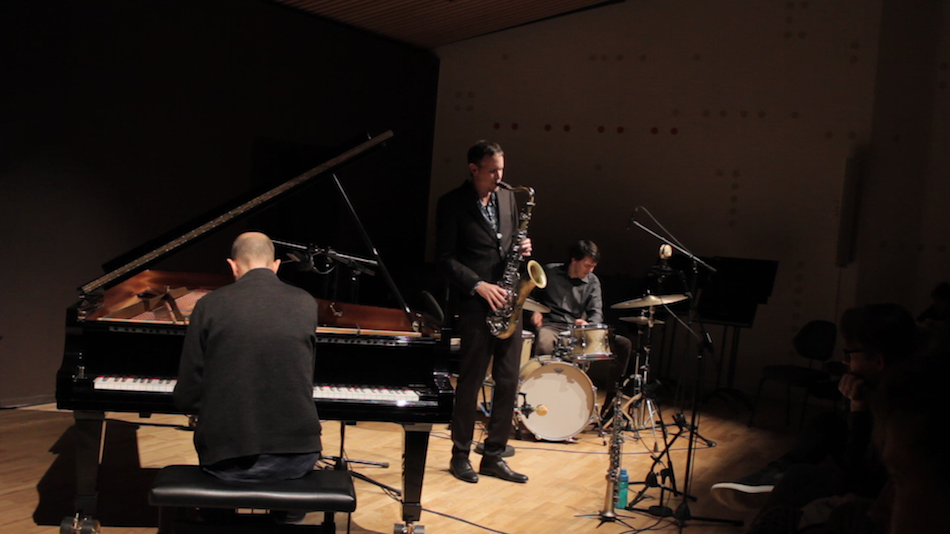 ---
'Winds of Winter' 'Jamboree Barcelona 2017
'Winds of Winter' is a work that was premiered in Aarhus Musikhuset on February 1, 2017 and later played in Jamboree Barcelona on April 25th, 2017.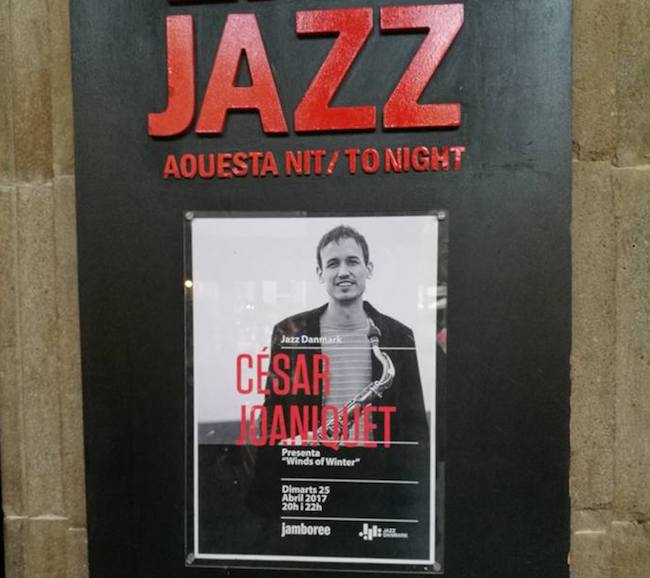 ---
Tsu - Na - Mi
I've made a band with Jens Bang and Kasper Tom, it's called Tsu-na-mi where we play my own compositions. The music is very melodic and full of improvisation. Two horns and drums!
The compositions are a mosaic of ideas that are released to interact with each other. Despite the short existence of this band, this trio has a strong and united creative vision, nurtured by mutual admiration and respect for one another.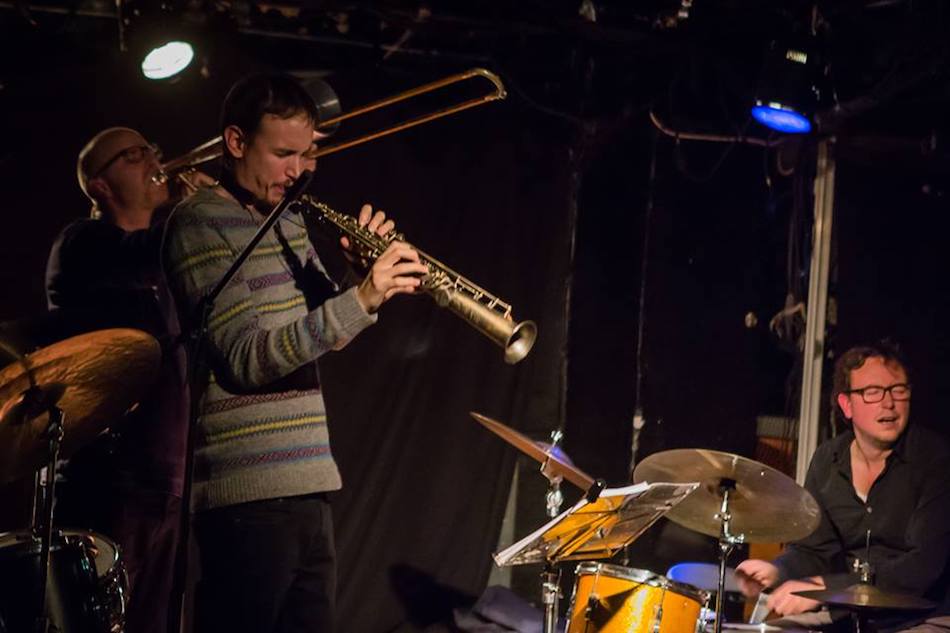 Tsu - Na - Mi playing to 11-Tsuki Jazzfest 24th november 2016
---
Els Tres Tenors
Els Tres Tenors along with Lluc Casares, Gianni Gagliardi, on tenor saxophones, Xavi Torres, piano, Vic Moliner, bass and Joan Terol, drums. We regularly play a tour every year in Spain.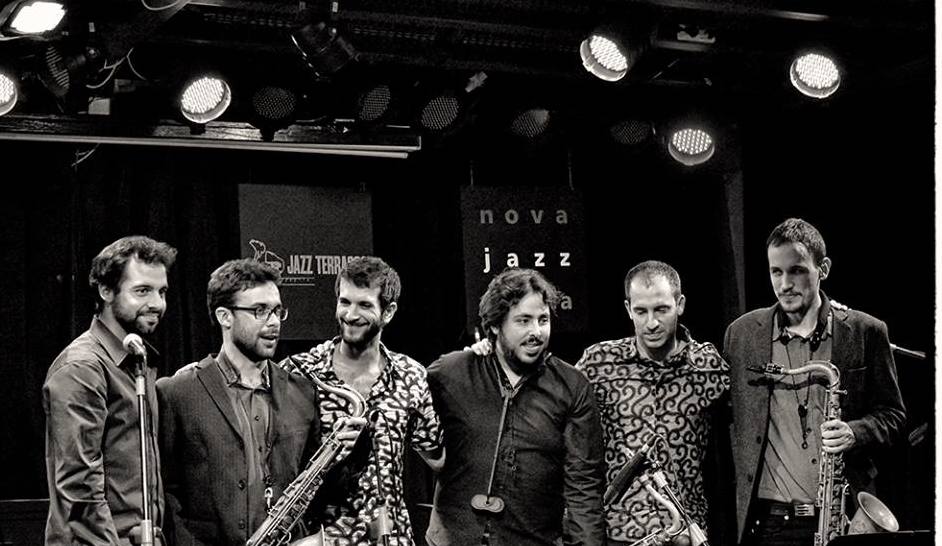 ---
Carlos Falanga, Quasar
Quasar comes out on the label Fresh Sound New Talent. The band consists of Carlos Falanga, drums, Jaume Llombart, electric bass, Jordi Matas, guitar, Marco Mezquida, piano and Cesar Joaniquet, saxophone.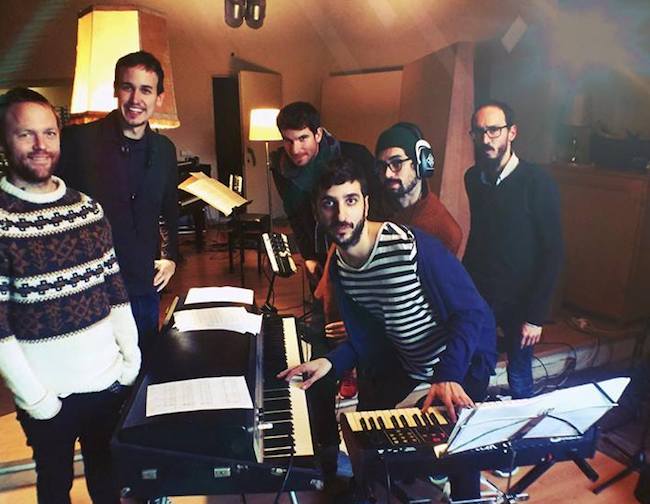 ---